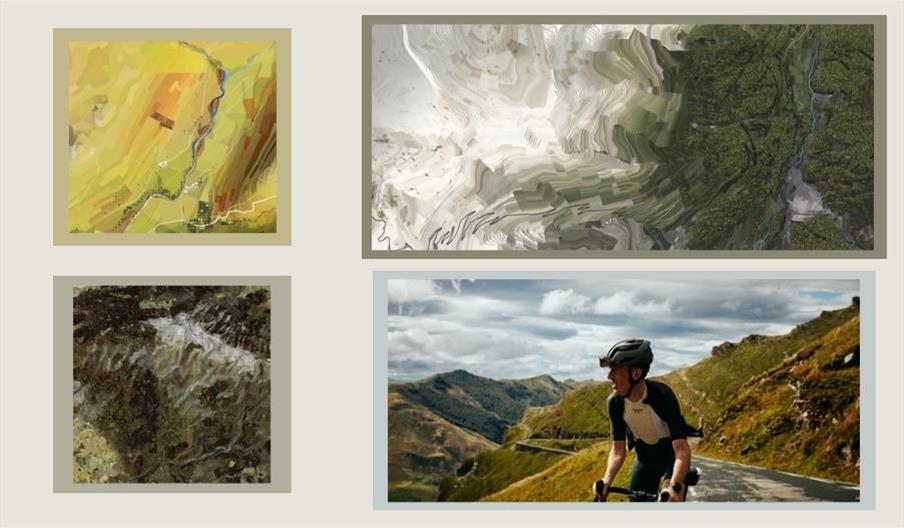 About
Tim O'Rourke: The Stagiaire Collection
will be exhibited at Just Good Frames from June 30 to July 29 2022

The exhibition opens the night before the start of this year's Tour de France.
It features ten of Tim's beautiful depictions of classic cycling climbs, including the challenges of Mont Ventoux, Alpe D'Huez and Passo dello Stelvio, as well as local favourites like Box Hill and Richmond Park.
Natasha and Ross invite you to the opening on June 30 from 6pm to 9pm.

You are also welcome to view the exhibition from July 1 to 29, from 8am to 3pm Monday to Friday
Sports writer and novelist Boris Starling, from his introduction to the exhibition catalogue:
"If you seek the soul of cycling, look for where the roads kick upwards towards the heavens. The flatlands are all well and good for the camaraderie of group riding, but only when the gradients become steep do you, the rider, encounter both the agony of your own limits and the ecstasy of passing through the most beautiful amphitheatres nature has to offer. Your lungs sear, your legs burn and the bloodrush of your heartbeat hammers loud in your ears: but all around you are the places where eagles dare and angels fear to tread, scenery that takes away what little breath you have left." (Above: Passo dello Stelvio in the Italian Alps).
Tim O'Rourke: "Born in Hampshire, I grew up near Wimborne in Dorset. I studied Architecture at the University of Bath, and at Oxford Brookes. My architectural career started properly when I began work at Foster and Partners in 1999. In 2016 I left to take a career break so that I could ride my bike more. After spending time guiding like-minded souls up and over mountains, I was inspired to capture the landscape in a way I understood. During my architectural career, I exhibited work in the Architecture Rooms at the Royal Academy Summer Exhibition, which further served to highlight that art and illustration are where my heart lies."
Map & Directions