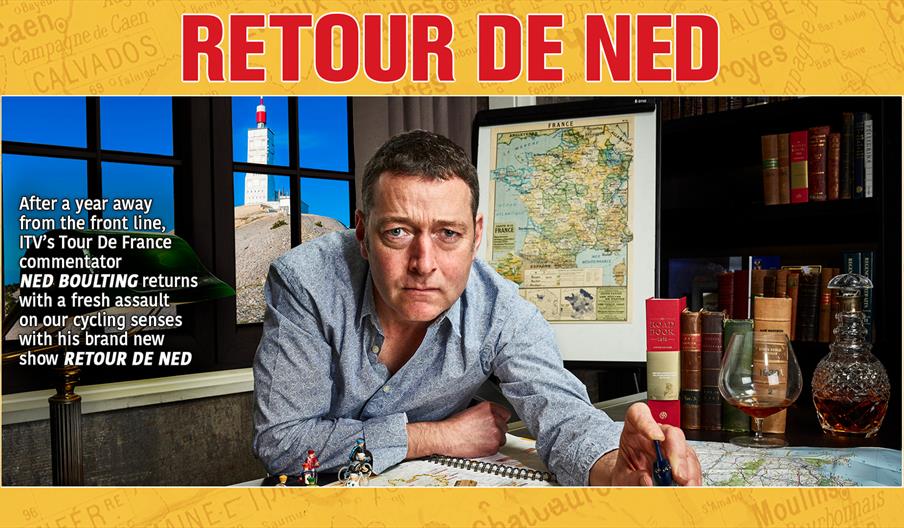 About
After a year away from the front line, ITV's Tour de France commentator Ned Boulting returns with a fresh assault on our cycling senses.
The cunningly entitled Retour de Ned is an indispensable theatrical road map for anyone aspiring to wear the yellow jersey on the Champs Elysées: a really very rough guide to the tactics (pedal faster) and challenges (not pedalling fast enough) which will need to be deployed to win the biggest bike race in the world.
Along the way, there will be time to call to mind the greatest racers of the age, and to do hopelessly bad impressions of them. There will be scope to celebrate all that is French about France, and all that is Tourish about the Tour: Stuff like ignoring 12th century cathedrals, peeing at the side of the road, pushing spectators over, punching demonstrators and generally behaving like a shaven-legged hooligan for a month while riding over entire mountain ranges.
So come along for another ride through the peaks and troughs of the silliest and the grandest month of the year, as Ned hands out his copious, thoroughly unreliable, advice on How To Win The Tour de France. Or if not that, then at least How To Watch It On The Telly.
Map & Directions
Road Directions
By Car
Approach by the A316. Nearest car park to the Theatre: Old Deer Car Park, TW9 1NL - Free after 6pm
Public Transport Directions
By Bus
Bus routes 27, 33, 37, 65, and 71 all pass nearby the theatre. For more details, visit the TFL website.
By Train
3 Minute walk from Richmond Station. 20 Minutes from Waterloo (SW Trains), 15 minutes by tube (District Line)