Events in Richmond upon Thames
From festivals to exhibitions - find your next event in London's greenest borough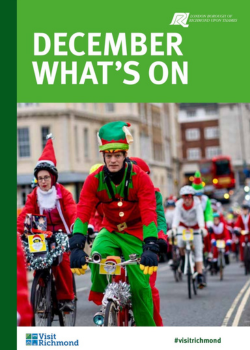 Here you can find all the events taking place this year, so you don't miss a thing!
There is plenty going on in Richmond upon Thames whether it's music, theatre, culture and history or even a late night event you're interested in we've got it all.
In all areas of the borough, you will find fun things to do no matter the age or budget, we have free events, children's events and even accessible events!
We are home to many famous attractions such as Hampton Court Palace, Kew Gardens, The Museum of Richmond and many more, that host events all year round the year, such as Fairs, Markets and Festivals, Film events or Festive events and much, much more.
If you're looking for things to do in London we are only a short train journey away from Central London.
Please do visit our Information Kiosk located in Richmond Station, where you will be greeted by one of our wonderful volunteers who's in-depth knowledge of the borough can help you find the perfect event.
In addition, if you are running an event locally and want it listed on our website, please submit your event via our form (inclusion criteria apply), or if you know of an event that should be added, please let us know by contacting us via our email.
---