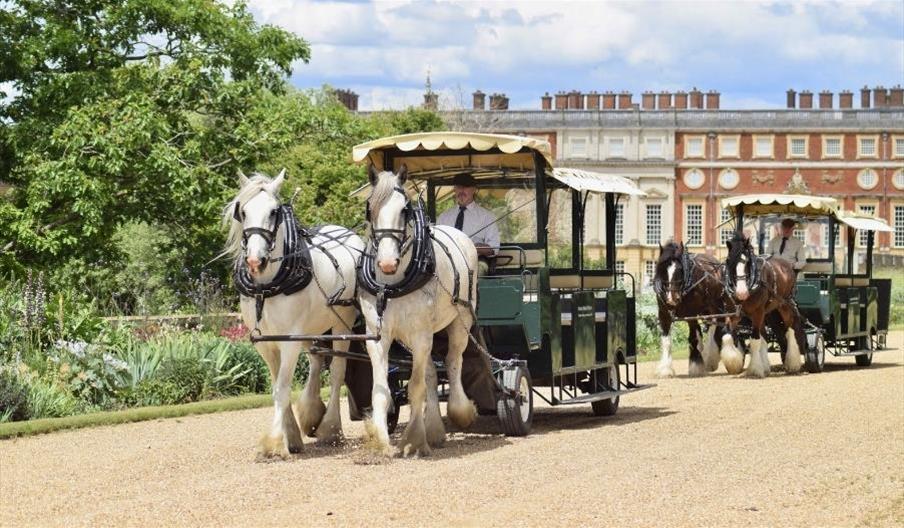 About
Take a unique, relaxing carriage ride driven by our magnificent Shire Horses in the formal gardens at Hampton Court Palace.
Admire the beauty and splendour of the gardens on a ride which takes about 12 minutes to complete. Our trams are fully accessible and can accommodate wheelchairs.
Please note, Shire Horse rides are weather dependent and will not run during adverse weather conditions, such as rain or snow.
HENRY VIII'S HORSES
Horses have long been important symbols of power and status. Henry VIII saw himself as a great warrior king and maintained several horse-breeding stables, including one at Hampton Court Palace.
Henry VIII wanted to increase the number of 'Great Horses' in England, and imported horses from the Low Countries, Italy, Spain, and Turkey to improve English bloodstock. The king passed Acts in 1530, 1535, and 1540 encouraging the breeding of bigger horses and forbidding the export of horses without a licence.
Tudor horses were not very large by modern standards. Those used for jousting were larger than those used for warfare but were still rarely more than 14 or 15 hands (approximately 142-152cm). This is considerably smaller than the 16 to 17 hands (approximately 162-172cm) of the Shire Horse.
SHIRE HORSE IN THE REIGN OF QUEEN VICTORIA
Shire Horses and other large draft breeds were an essential part of agriculture and industry in Britain for hundreds of years. In 19th century London around 19,000 horses were used by carrier firms alone.
In 1838 Queen Victoria opened Hampton Court Palace to the public. From 1840 visitors could travel by horse-drawn omnibus from nearby Hampton. The railway did not arrive at Hampton Court until 1849.
Queen Victoria maintained the Royal Mews on the green at Hampton Court, first built by Henry VIII in the 1530s. The Queen's personal veterinarian surgeon, William Joseph Goodwin, lived in a large apartment at the Mews. In 1861 he was granted permission to install a special Turkish bath at Hampton Court…just for the horses.
SHIRE HORSES AT HAMPTON COURT PALACE TODAY
The advent of the combustion engine put the Shire Horse breed at risk. By the 1960s only a few thousand survived. The Shire Horses at Hampton Court are part of the last herd of working Shire Horses in London.
The horses live in Home Park, where they also help maintain the wildflower meadows. Each November, on Shire Horse Sunday, the herd is blessed by HM's Chaplain prior to evensong at The Chapel Royal.

Guide Prices
| Ticket Type | Ticket Tariff |
| --- | --- |
| Per bench | £10.00 per ticket |
| Under 2 years old | Free |
Tickets can be purchased from the carriage operator.

Please note, shire horse rides are weather dependent and will not run in adverse weather conditions, including rain and snow.
Map & Directions
Road Directions
By Car:
The palace is located on the A308 and is well signposted from all the major local roads. From the M25 take either exit 10 on to the A307 or exit 12 on to the A308. From the A3 and then the A309.  
Car Parking
Limited parking is available. During our busy periods it is advisable to consider other means of travel.  
Accessible parking
There are 9 disabled parking bays available on site. Parking on site is free for Blue Badge holders.  
On-site
£1.60 per hour (car parking bays fit a standard car only). Pay for your parking with cash or card.
Public Transport Directions
By Train:
South West Trains run services direct from London Waterloo to Hampton Court. The journey takes only 35 minutes and the palace is a 2-minute walk across the bridge from the station. Hampton Court station is in zone 6. Oyster cards are accepted on this route.  
By Bus:
From Kingston - 111*, 216*, 411*, 461, 513 From Richmond - R68* *These services accept Oyster cards, LT cards, bus passes, Travelcards, Freedom Passes and Saver Tickets.  
By Minibus/coach:
Drop-off and collection points: - Hampton Court Green (500 metres from entrance). - Hampton Court Station Coach Park (200 metres from entrance).  
By River boat:
From Richmond or Kingston with Turk Launches (April - mid September) and from Westminster with Westminster Passenger Cruises (April - September).  
On-site
£1.60 per hour (car parking bays fit a standard car only). Pay for your parking with cash or card.  
Nearby
Hampton Court Green (500 metres from entrance) - £1.50 per hour Hampton Court Train Station (200 metres from entrance) - For information about prices, please visit the National Rail website.  
Accessible by Public Transport.